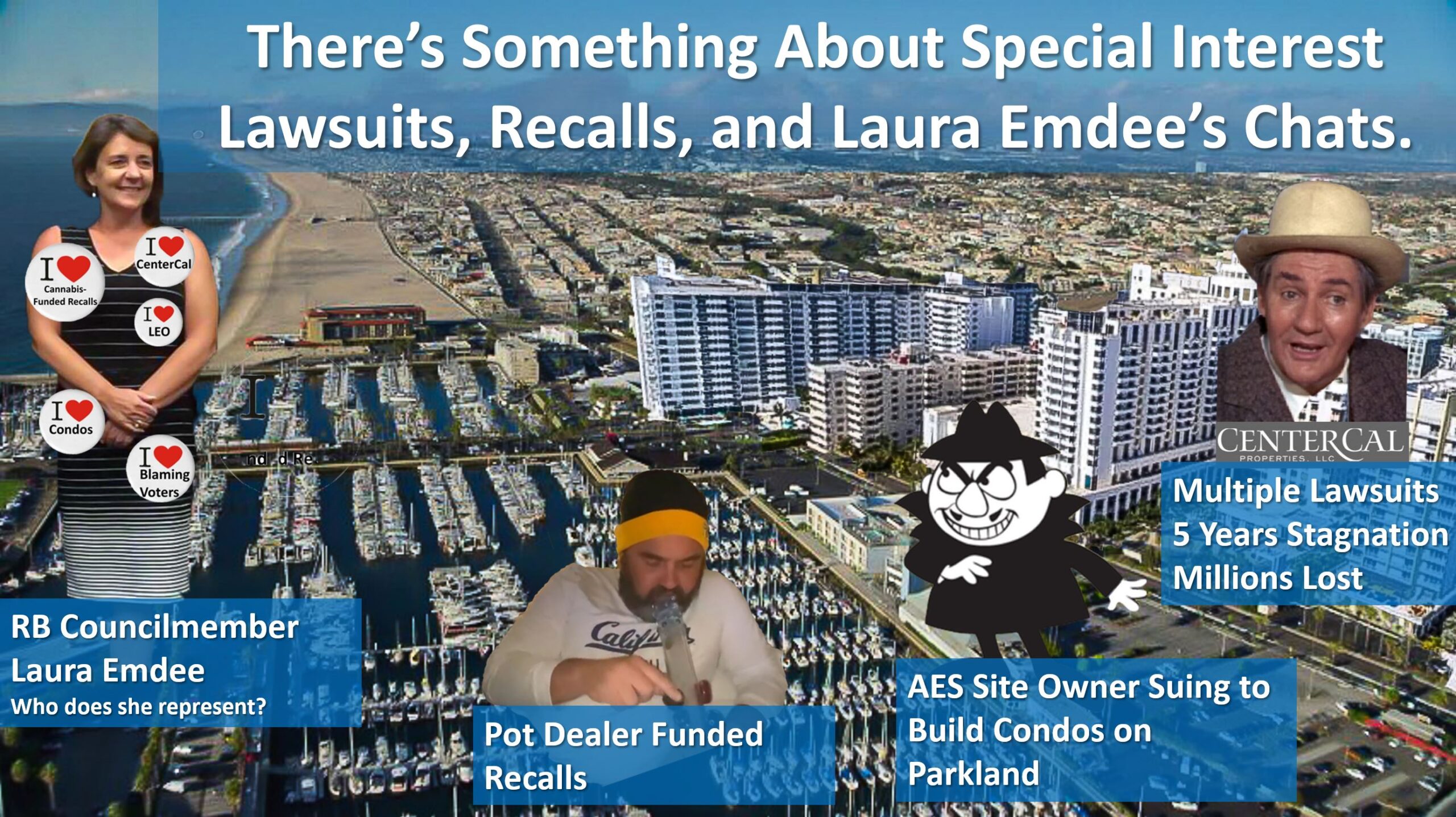 For the past 5 years residents across Redondo Beach have asked this question:  "Why do big moneyed outside special interests often decide to sue the city, or get proxies to sue Redondo residents on their behalf, after District 5 councilmember Laura Emdee speaks with them?"
A recent example is the recall funded by the out-of-town pot dealer, oh-so-coincidentally right after Emdee had a 2-hour conversation with him. If the required signatures are gathered, the special election by some estimates could cost the city of Redondo $100,000.  What was interesting is when the recall was announced, the pot guy also announced being in contact with the AES site owner and how they "might" be working together. Before more was said the pot dealer spoke about building housing at the AES site which is odd as it's unrelated to his core business but has been an "idea" repeatedly floated by Emdee. So who do many speculate facilitated that connection and introduction?
Under the category of interesting coincidences, we decided to take a deeper dive into the latest lawsuit filed by the AES owner attempting to force Redondo to add overlay housing zoning to his property, increasing the land value to HIM, so he can build hundreds or even thousands of condos at the AES site. To reiterate, this failed idea is something multiple city-wide elections have repeatedly rejected despite the latest false spin from councilmember Laura Emdee, and her years-long support to overturn the people's election results! There is also the fact the California Coastal Commission has mandated at least 6 acres of the site be reverted to a wetland which is what was there before the power plant was built so that will limit any possible residential construction.
The 27-page lawsuit cherry picks alternative facts to make a flawed case. What's evident is these are virtually the same talking points Emdee and a few of her misguided "laypersons" have been pushing to build housing there. This was blatantly obvious earlier this year when the city needed to come up with a housing overlay plan to meet the arbitrary Regional Needs Housing Assessment Number (RHNA) from the State. It's apparent these deep-pockets people don't seem to research or do their homework regarding Emdee's track record, and this is just another example of one who likely listened to a person who has no pulse on what the residents want and doesn't seem to care.
As we have previously stated an important criterion for the state-dictated "new housing" is to be located with close, easy access to regional mass transit and transportation arteries (read: "freeway access points and light-rail stations). The AES location has none of these nearby so unless people are taking boats to their workplace, they need to drive across the city to those major transportation arteries. The traffic impact created citywide by the addition of condos on the AES site would be disastrous.  Even the 2006 traffic study (the most recent) commissioned by the city predicted that before 2030 the PCH/Herondo-Anita-190th intersection would rank an "F" (the worst), and anyone who drives through there at rush hour or during a weekend day knows it clearly grades as "F".
The AES site has been used for power generation and for the better part of the last 100 years. The land is contaminated and requires significant remediation before it could even be considered safe, viable and certified for housing. This process will take a long time (years) and can't begin until the plant is permanently shut down which also may take years. But even so, it's zoned for open space in our city that desperately needs to have more of it, not less of it!
Due to this extensive amount of time needed for remediation the state won't believe increasing the overlay housing zoning to this area would result in housing built any time soon. So, the AES site won't be accepted to satisfy the state requirements during this cycle anyway – it isn't being considered by those familiar with the state's criteria and working on this issue.  It's just a game of smoke and mirrors for council member Emdee to get her name out and possible deep pockets "independent" expenditure funding for future runs at political office (RB Mayor).
To summarize why this dead-on arrival plan won't succeed even if the city is sued.
The entire city voted 6 times against placing residential development on the AES site – 6 times! It is zoned as parkland, as a result of citywide votes.
The entire city voted 4 times to put a park on the AES site – 4 separate citywide votes of the residents.
Council member Emdee has coincidentally been in clandestine communications with the real-estate developer who bought the AES site and more recently with the out-of-town Special Interest Pot Dealer.
Commuter traffic generated from residential development at the AES site will be cut-through traffic in your neighborhood.
The AES owner wrote a letter to the State Water Board asking them to allow him to extend power generation on the site for years to come. This means the state board responsible for RHNA numbers knows his offer to build housing at the site is not credible.
Did District 5 councilmember Laura Emdee encourage this latest lawsuit which will impact the whole city?
We don't know for sure 😉 but perhaps a few enterprising residents can dig a bit deeper and find out.
We are getting closer to our goal but ROW still needs your help to defend Redondo Beach residents from unscrupulous developers, outside special interests, and crony corruption, and to help build the future you voted for at the ballot box, so please donate Here.