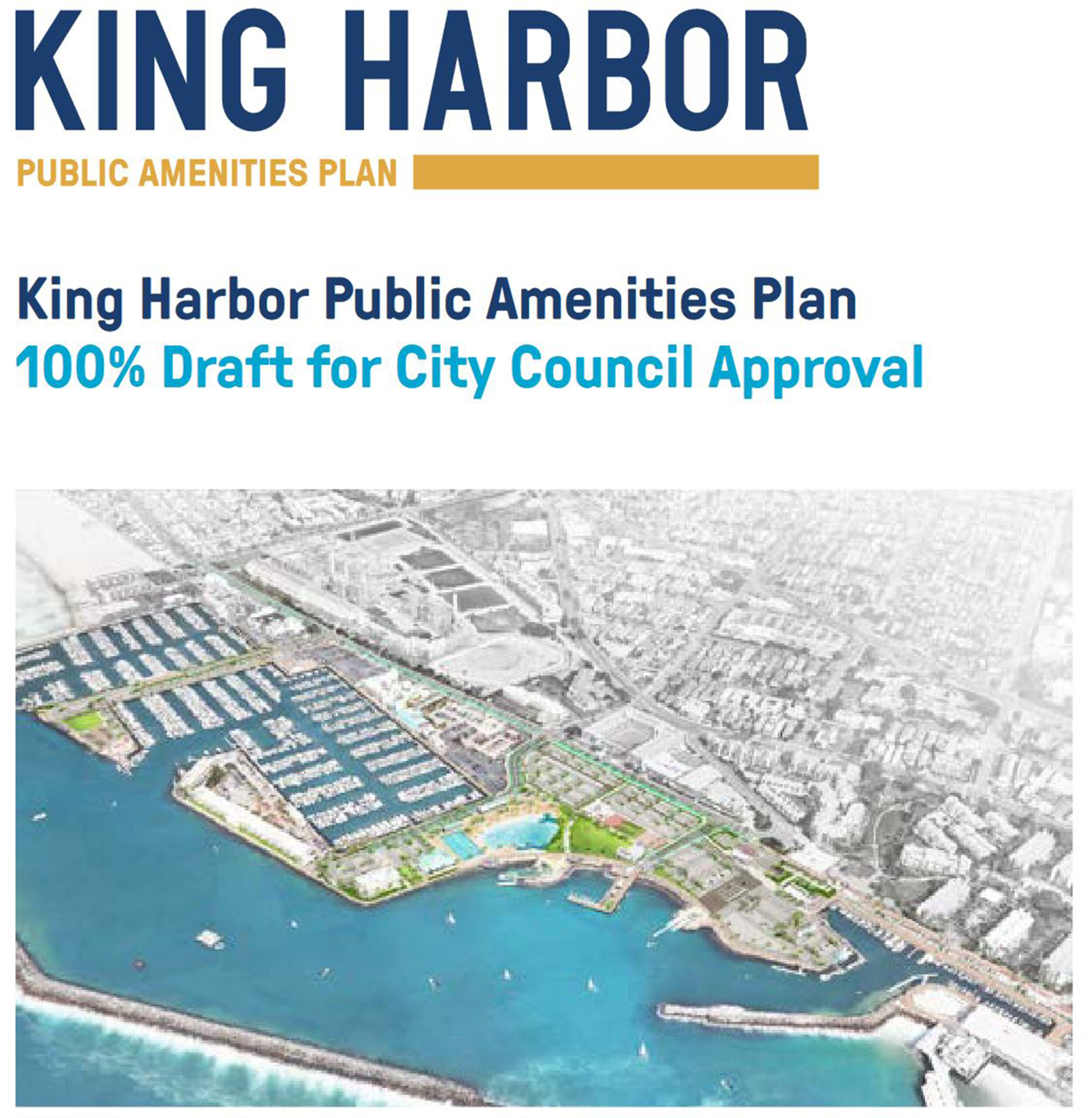 On Monday, September 12, from 6:30pm -10:00pm the Harbor Commission will discuss and consider the Draft King Harbor Public Amenities Plan.
After fighting for 6 years for residents to have input in the future of King Harbor, we are at long last moving forward.  Thanks to the voters in March 2021, the City Council majority is now resident-centric, no longer catering to a mall developer's wishes.  That means your voices WILL finally be heard and listened to.
It is even more important now as recent efforts are underway by yet other big moneyed outside special interests who are attempting to buy a Redondo Beach City Council seat. This is being done through an unwarranted recall effort funded by a Long Beach pot dispensary owner to claw back a council majority, and favor over-development in King Harbor and the AES site. It would also give the pot dispensary owner a monopoly in our city so they can avoid paying addition fees to the city. If successful, this would put a stop to all we have accomplished and much needed progress.  We must VOTE NO on the Recall in District 4 and No On Measure E citywide to maintain local control of our elections and our laws.
Key to the King Harbor revitalization program is the need to upgrade or replace many of the public amenities within the waterfront to improve recreational, educational, and entertainment offerings available to residents and visitors alike. The draft plan is a framework for recreational and operational needs along the waterfront, providing a roadmap to guide the City through specific recommendations. The draft plan captures hundreds of public comments and those from the Public Amenities Plan Workgroup. It also contains details of previous planning efforts related to Seaside Lagoon, a Coastal Commission-required public boat launch, the sports fishing pier, and Moonstone Park.
This Harbor Commission meeting provides yet another opportunity for the community to add more input. The City's Harbor Commission will discuss, comment, ask question, accept all public comments, and ultimately make a recommendation to the Mayor and City Council on this draft plan. This copious collaboration and all its elements become the basis for their formal recommendation for the City Council to adopt the Draft Public Amenities Plan.
TO WATCH THE HARBOR COMMISSON MEETING FROM THE CITY OF REDONDO BEACH WEBSITE:
https://redondo.legistar.com/Calendar.aspx
*Click "In Progress" hyperlink under Video section of meeting
TO WATCH MEETING LIVE ON YOUTUBE:
https://www.youtube.com/c/CityofRedondoBeachIT
TO JOIN ZOOM MEETING (FOR PUBLIC COMMENT ONLY):
Register in advance for this meeting:
https://us02web.zoom.us/webinar/register/WN__AQN9IjIRbCY9nFoafS8_A
We are getting closer to our goal but ROW still needs your help to defend Redondo Beach residents from unscrupulous developers, outside special interests, and crony corruption, and to help build the future you voted for at the ballot box, so please donate Here.