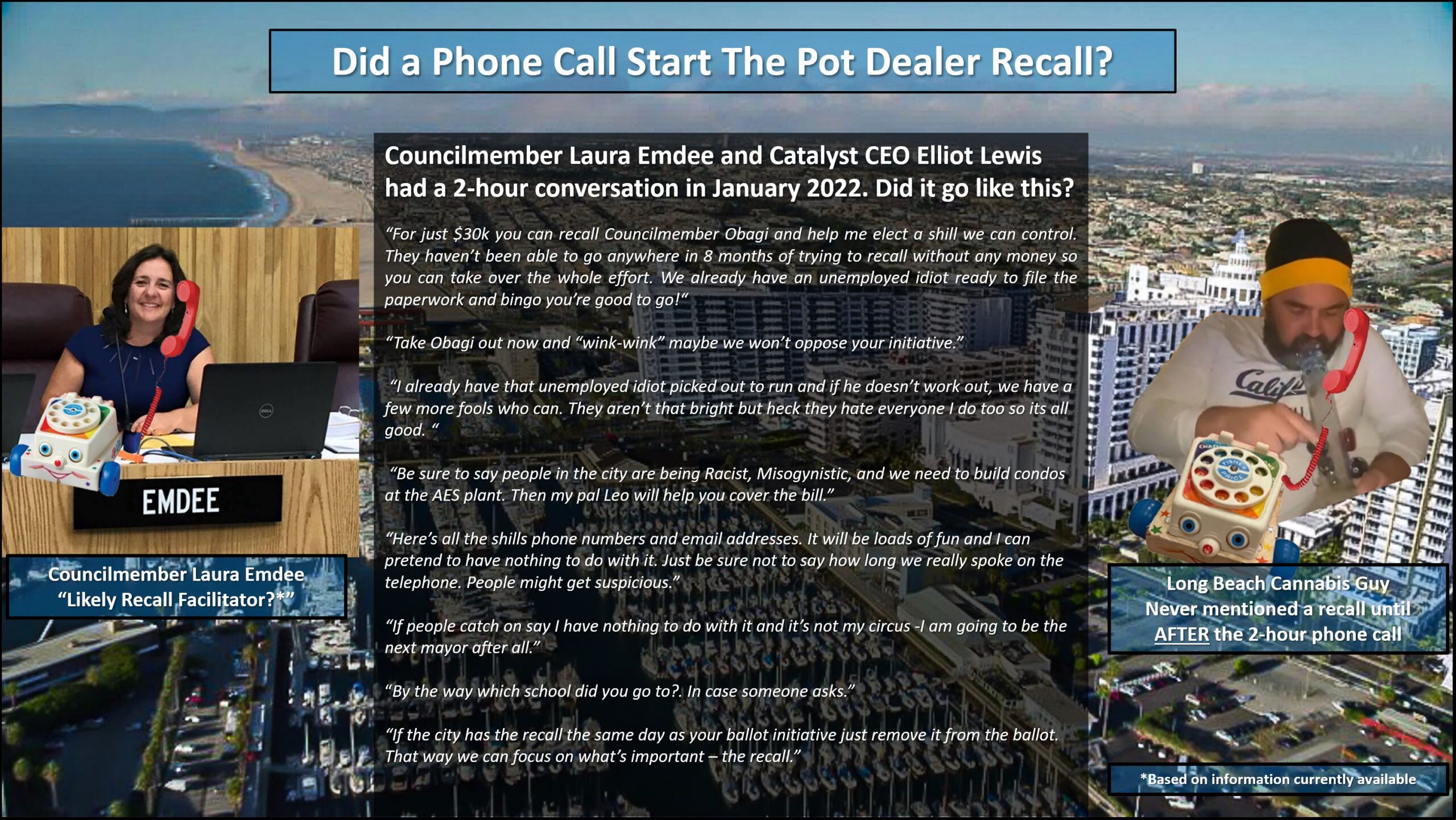 Ever read something that just makes you shake your head in dismay?
That's what happened to thousands of Redondo Beach residents after the Easy Reader printed a story last week about our recent post showing Emdee was involved in a recall effort against council member Obagi. (You can see the ROW story "Link and the Easy Reader story Link)
Let's start with District 5 councilmember Laura Emdee's actual quote below in the newspaper about her 2-hour conversation with a self-described toxic as "F" Long Beach pot dealer, with whom she is now apparently on a first name basis:
"The reason I reached out to Elliot was because it was a 5-0 vote to not accept his ordinance. Why is he going after Obagi? I wondered. Are they going to start recalling everyone else?" Emdee said Tuesday. "What's his endgame? Who are you? It just didn't sound right. Where'd you go to school? … Just to get to know each other."
 "The only reason I called was to see if he was going to go after all of us. I wanted to be ready," Emdee said.
The second sentence is the most damning as Emdee acts worried about the pot dealer recalling everyone else including her. It appears to many Emdee may have slipped up big time as she forgot the pot guy wasn't talking in public about recalling anyone in January. Remember, the pot dealer dropped his "surprise" recall Obagi announcement FEBRUARY 15, 2022 on a tiny podcast hosted by an ethically challenged, self-described PR priestess. 🤣 . Emdee wouldn't have known to call the pot dealer prior to that time, as she did, wondering if she was also a target!  As far as we know the only people talking about a recall were on the nasty private "HateBook" page on which Emdee had already picked out a replacement District 4 councilmember in August of 2021.
This comment also makes no sense as why would the pot guy spend all that money to recall either Emdee or Horvath when they will be termed out in March of 2023?
Paying for an expensive recall also doesn't make sense unless you have a ready-made shill to run against the current council member. That way if they win the pot guy can install a candidate he will effectively own and control. In the case of Emdee and Horvath, who would the pot guy run in their Districts for a 4 month-term before the next election in March 2023?  Does he even know anyone there, or anyone in any other district besides his budtenders?
Emdee is also now trying to spin her questionable 2-hour phone call as an attempt to pull off some sort of Jedi Mind trick on a toxic person who wants to take over a council seat. The fact is there was no reason to call the pot guy as he had no pending business before the city council.
The course of events which apparently makes the most sense to Redondo residents is Emdee was aware of the pot guy's mailer in December and then initiated contact with him in early January.
During the 2-hour call did Emdee provide the other "local" talking points (housing, AES, the fire dept, "flip the Council majority") that probably sealed the pot guys sentiment, thinking those were more nails in the coffin ensuring a recall could happen … attempting to fund his own Council Member who Emdee apparently already picked? It's just so ironic that her talking points magically became Elliot's "reasoning" to recall isn't it?   The pot guy is then given their contact info and voila – the recall effort which went nowhere for nearly 8 months suddenly has a deep pockets financial benefactor.  And it's also ironic that the very person Emdee suggested in August 2021 to replace Obagi is the very person who the pot guy got to sign and submit the "citizens initiative" they wrote and paid for.
Now on to the comment Emdee made claiming she only spoke about the recall in a nasty District 5 wide email after being linked to it.
"I wasn't going to say anything but (ROW) started attacking me," Emdee said. "I didn't want to touch (the Obagi recall) issue with a 10-foot pole. I didn't want to get involved. It's not District Five ­related. Up until that point I had not said a single word about the recall.
Sorry Emdee, all you did was nasty rumor spreading and negativity toward council member Obagi who makes you look bad by getting things done, and in your own Council district newsletter! Did you ever make any calls to the District 4 people you said asked you about it? It's unlikely Emdee was ever bombarded with questions and District 5 voters can't vote on the recall anyway. So why devote a huge portion of an email to it? We must ask who and what was Emdee serving by emailing "what she's heard" if she was NOT involved? Spreading "hearsay" is dangerous and damning enough!
Emdee now talks more like someone with buyer's remorse who made a terrible decision, put the city at risk again, and is now trying to distance herself. The fact is many of the people on that HateBook page don't live in D4 and are supporters of Emdee. For Emdee to feign ignorance after screen shots show her involvement is amazing.
Don't vote for this outside special interest Pot dealer funded recall which appears by many in the city to be linked to termed out District 5 councilmember Laura Emdee.
District 5 now is the time for you to find a council candidate who isn't so divisive and won't cost the city by most estimates $20 Million dollars as Emdee has over the past 7 years.
We are getting closer to our goal but ROW still needs your help to defend Redondo Beach residents from unscrupulous developers, outside special interests, and crony corruption, and to help build the future you voted for at the ballot box, so please donate Here.