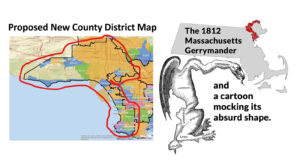 LA County is having another redistricting meeting tonight 12/08/21 at 7:30PM.  – Post your comments today before 7PM.
As expected, the commission is still pushing an absurd map as seen above which lumps the South Bay with the San Fernando Valley.  This just makes no sense at all, and we need to tell them!
The good news is we are having an impact as more comments are coming from residents of the South Bay.
It's still not over yet so please do the following NOW.
Send a written Public Comment NOW before the meeting by following these steps.
Use this link below to make comments for tonight's meeting 12-8-21 by 7 PM.
https://publiccomment.redistricting.lacounty.gov/
What to do:
Select Agenda Option B-3, click Favor. Then write that Map B3 is the best choice for the county as well as communities of interest in the South Bay and Beach Cities. The South Bay has a harbor, beach, and other coastal issues that impact the area which are reflected in map B3.
You can also Select Agenda Option F-2, Click Oppose.  Then detail the reasons why combining the San Fernando Valley with the South Bay makes no sense and will undermine our representation in Los Angeles County. This map is the textbook definition of Gerrymandering and must be rejected.
Opposed Agenda Option G-1
Almost as bad as Map F as it would combine the South Bay with Downtown LA.
To make a Public Comment Live On the Zoom Call
Members of the public who would like to make a live public comment will need to sign up via the Zoom Q&A function during the public hearing by 6 PM (PST).
Tonights Meeting Agenda
https://redistricting.lacounty.gov/wp-content/uploads/2021/12/CRC-reg-mtg-agenda-211208-v2.pdf
More General Information About LA County Redistricting
https://redistricting.lacounty.gov/virtual-meetings/
Los Angeles County Redistricting 2021