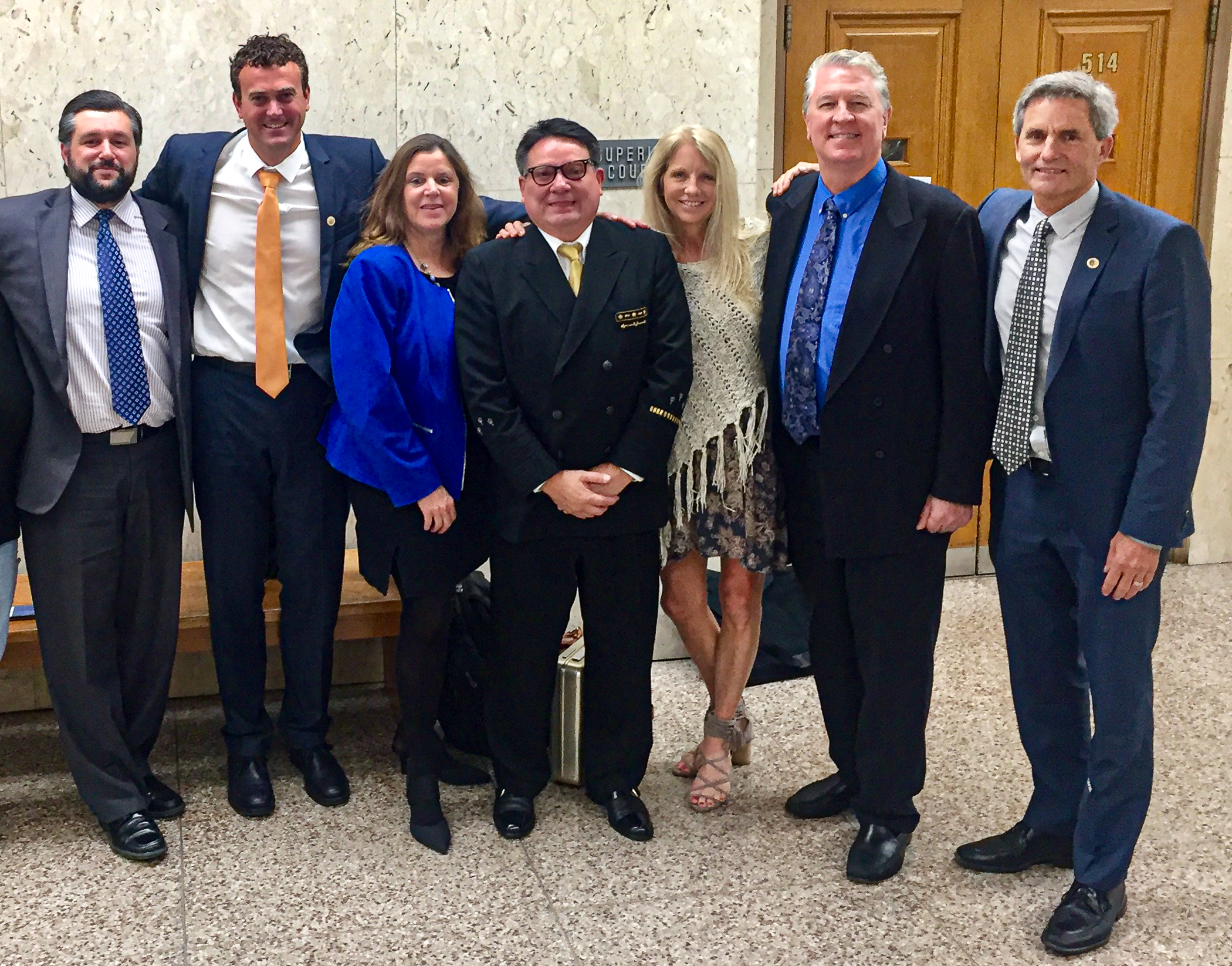 ROW Legal Team and Co-Defendants Brand, Moffat, Nehrenheim, and Craig
FOR IMMEDIATE RELEASE: 3/20/2021
Rescue Our Waterfront President Wayne Craig
APPEALS COURT AFFIRMS LOWER COURT JUDGMENT
In a David versus Goliath Herculean event, David wins handily again.
Redondo Beach, CA: On Friday March 19, 2021, in a 32-page opinion, the Second District Court of Appeal upheld a lower court judgment and a $896,000 fee award. The opinion meticulously reviews and denies all claims made by Plaintiffs Chris Voisey and Arnette Travis. The court furthermore holds the Plaintiffs solely responsible for all court costs, expenses, and legal fees, in excess of a million dollars with interest.
Originally, the lower court vindicated all four of the Defendants and awarded them attorney fees. This appeals court ruling upholds the bulk of the lower court ruling and holds the Plaintiffs responsible for the Defendants costs associated for the appeal.
Mayor Brand, who just won re-election with 68% of the vote against Chris Voisey, one of the "shill" Plaintiffs, wants to move forward, confirming "Now we can focus on 'revitalizing not supersizing' our waterfront."
Councilmember Nehrenheim who also recently won re-election with 62% of the vote, stated, "Once again, truth prevails as artfully defended by our legal team and holds those who try to hide behind their dark-moneyed corporate overlords personally responsible." While the process of recouping costs will be far off, he stated, "It is time to start building bridges and rebuilding the community from the pain Redondo Beach Waterfront LLC has inflicted."
Rescue Our Waterfront President, Wayne Craig stated, "This is a huge wake-up call for those in this City who have paved the way for moneyed special interests to overdevelop our City at the expense of our quality of life.  That playbook of pay-to-play cronyism doesn't work here anymore, as evidenced by this major victory and the recent municipal election."
The Lawsuit: filed in June in 2017 and first heard at trial in November of 2018. The 5-day trial included the testimony of 11 witnesses and hundreds of documents.  No lawsuit of this type has ever gone to trial.  The appellate decision has been certified for publication and can be cited.  Redondo Beach Waterfront LLC has filed four lawsuits against the City of Redondo Beach since 2017, not including this lawsuit against the Mayor, Councilmember, and community volunteers.
It was revealed in court when the attorney for the Plaintiffs, Bradley Hertz from the Sutton Law firm, testified that Redondo Beach Waterfront LLC was funding the prosecution of this lawsuit the entire time.
ROW needs your help to defend Redondo Beach residents from unscrupulous developers and crony corruption, and to help build the future you voted for at the ballot box, so please donate Here .