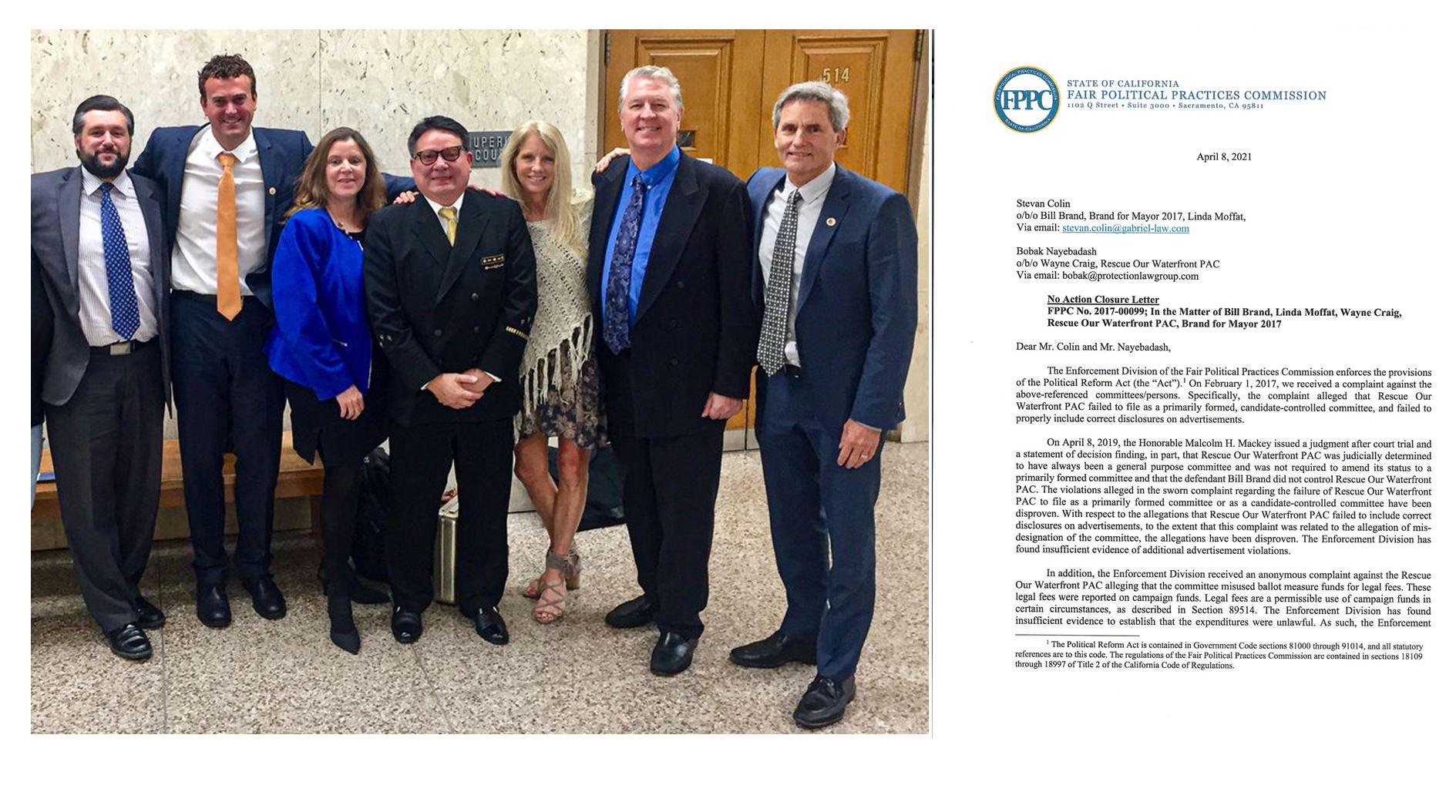 FOR IMMEDIATE RELEASE: 4/9/2021
Rescue Our Waterfront President Wayne Craig
FPPC CLEARS RESCUE OUR WATERFRONT OF ALL CHARGES
Redondo Beach, CA: On Thursday April 8, 2021, The California State Fair Political Practices Commission ("FPPC") clears Rescue Our Waterfront ("ROW") of all charges, and drops all complaints against it.
The FPPC is the state commission responsible for overseeing activities of elections.  They received a complaint from a Redondo Beach resident in 2017 making bogus charges against ROW.  The FPPC investigated these charges, and has dismissed them, finally ending this charade against ROW after more than 4 years.  In what has been described as a weaponized political attack on private citizens, the nightmare, harassment, and legal expenses it created are finally over.
ROW President Wayne Craig stated "Contrary to what court-labeled "Shills" Arnette Travis and Chris Voisey have stated these past 4 years, the FPPC allegations are serious and could have resulted in large fines.  These fines alone could have been in the tens of thousands of dollars, and we also had to retain legal counsel to defend ourselves.  Beyond these monetary costs, a conviction could also result in the revocation or suspension of any State licenses used for our personal businesses.  We are happy to end this nightmare once and for all, and it proves yet again that nothing we did was wrong: this was a politically-motivated attack against our First Amendment rights."
It all began in 2017, when ROW was publicly supporting the passage of Measure C, governing land uses around King Harbor.  On 2/1/2017, a bogus FPPC complaint was filed by Redondo Beach resident Michael Cahalan, who at the time was the spouse of Rick Schmitz.  Rick Schmitz is listed as a "paid consultant" for the "No On Measure C" campaign funded by Redondo Beach Waterfront LLC (CenterCal Properties and Westport Capital) who was backing a huge mall development project in the Harbor.  Schmitz received $5,138 from them, as far as was reported in campaign filings.
In Cahalan's complaint, he alleged ROW PAC was improperly formed and violated the California Political Reform Act.  As part of our defense in the infamous sham lawsuit against us, we tried to subpoena Cahalan, and ask if he was paid to file the FPPC complaint, but he was able to escape being served the summons.
Strangely enough, we were later contacted by lawyer Bradley Hertz, the Assistant Treasurer for the "No On Measure C Campaign" and attorney for court-confirmed "Shills" Arnette Travis and Chris Voisey.  Bradley Hertz informed us he was also the attorney for Michael Cahalan.  Court testimony revealed that Bradley Hertz was secretly paid for his services in the sham lawsuit by Redondo Beach Waterfront LLC (CenterCal and Westport Capital).  One could almost detect a pattern in this.
It should be noted the FPPC complaint is virtually word for word the language contained in documents for the sham lawsuit that court-labeled "Shills" Chris Voisey and Arnette Travis ostensibly filed personally.  It is believed that the lawsuit was created when it became clear the FPPC action would take too long and not interfere with ROW's many efforts.  That lawsuit was later discovered in court to have actually been secretly funded by Redondo Beach Waterfront LLC (CenterCal Properties and Westport Capital Principal Partner Gregory Geiger, who also sits on the Torrance Memorial Hospital Foundation board.)
Later, an additional, anonymous, complaint with the FPPC was filed on 8/5/2018, alleging ROW misused funds raised for legal expenses.  Even though both the forms and instructions from the FPPC allow for this approved use of funds for legal expenses, this new complaint was added to the first complaint.
One amazing thing is that the person who filed the second complaint did so anonymously to conceal their identity, but made one serious error.  It notes the witness to this "alleged anonymous complaint" as being 2019 Chamber of Commerce "Man of the Year", Doug Rodriguez.  In documents forwarded to us by the FPPC, they inadvertently attached a copy of the original anonymous complaint showing the home address of the sender.  This was later confirmed as being the home address for Mr. Rodriguez, an unsuccessful candidate for City Council in the 2017 election.  We asked Mr. Rodriguez, at a Coastal Commission meeting held at the Redondo Beach library, why he didn't bother to read the FPPC regulations before filing his claim.  His response was a temper tantrum.
The dismissed bogus FPPC complaints, as well as the court-labeled "Sham" lawsuit, have raised the question of what other local shills were assisting these actions attacking our First Amendment rights and the rights of Redondo residents to participate in major decisions impacting their city.  The majority of these identified shills appear to be active in the Redondo Beach Chamber of Commerce, its Leadership Redondo Group, and the North Redondo Beach Business Association.  These same people were also listed in nomination paperwork for failed mayoral candidate and court-labeled "Shill" Chris Voisey.
We hope that moving forward we can put this nightmare behind us, and get back to doing what we have tried to for the past 5 years.
Let's Revitalize Not Supersize our city!