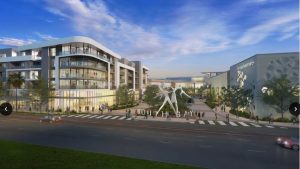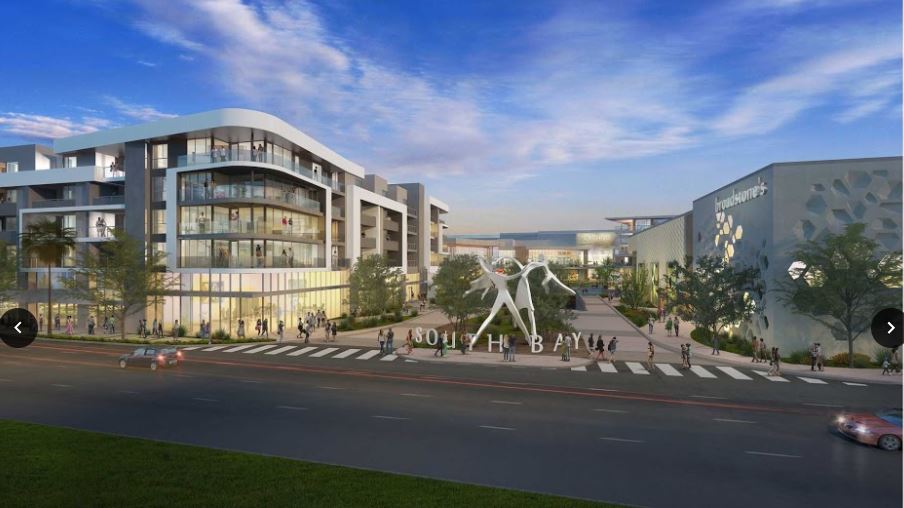 Editors Note: The Redondo Beach City Council voted to continue the hearing for the QIC Galleria Project on October 23, 2018 at 6PM over the objections of Council Members Horvath and Emdee. Please come to the council meeting during public comment and let your voice be heard.
Let me start by saying that I want the Galleria to be revitalized and to succeed, as most of us do. Redondo Beach benefits from having a healthy Galleria shopping mall, not just for the sales tax revenue, but also for the convenience, restaurants and entertainment options.
As a matter of fact, a proposed Galleria revitalization is a wonderful new opportunity for Redondo Beach to revitalize the whole Artesia corridor, and make quality of life better for all of Redondo's citizens. Here's how:
Given that Silicon Beach has spread south from Santa Monica, filling up all available office space in Venice, Playa Vista, Westchester, El Segundo and all the way down through Manhattan Beach, we have the glorious opportunity to welcome these growing companies here, bringing in high-paying professional jobs that are in Redondo Beach. Redondo Beach citizens can walk, bike, ride-share, or have 10-minute daily commutes from their homes – wouldn't that be a change?
93% of all employed Redondo Beach residents commute out of the city to work. And many of us have hour-long commutes each way – 2-3 hours of stressful traffic every day, and it's miserable. One way we have to make this better is to put class-A office space on and around the Galleria. By putting class-A office space with the Galleria we have set an anchor that could revitalize Artesia into a Silicon Corridor of local high-paying professional jobs and fine restaurants and retail that caters to these offices and the surrounding communities. High-quality jobs next to the Galleria will make it healthier, because it will have all-day customers. This would be a truly wonderful benefit to Redondo Beach and all of its citizens! Good jobs, close to home, shorter daily commutes, great restaurants and healthy retail patronized all day long by a local professional workforce.
This is not the plan the Applicant (QIC – the South Bay Galleria's owner) has presented. Instead, they are submitting a bloated retail mall, even bigger than the old one – while retail is dying as an industry, thanks to Amazon. They have also added high-density residential, 300 apartments, the traffic from which will make the commute worse for the 93% of employed Redondo residents suffering every day. And the Applicant has cherry-picked important data to disguise the traffic impacts it will cause. I will discuss that in more detail in a few minutes.
Redondo residents should know that the Applicant, the mall developer, is beneficially owned by QIC, the Queensland Investment Corporation, owned by the Queensland, Australia government. The Queensland Investment Corporation has every right to pursue the highest profits and investment return that they can achieve. However, we have to live with whatever project we approve them to build here in Redondo Beach, and they don't. They live in Queensland, Australia. I'm sure my fellow Redondo Beach residents would agree that we should pursue a revitalization for the Galleria that provides attractive investment return for QIC but keeps our city livable.
Additionally, nothing in the Applicant's deal with the city requires this entire project to be built, and not even built or owned by the Applicant or its parent, QIC. As it stands, the various approvals are structured to allow the Galleria to be broken up into separate pieces, and sold off to multiple acquirers, to be developed at different times and in different ways. The project would be piecemealed out to different companies (residential developers, retail, hotel, movie theater, and office).  And only parts of the proposed development might be implemented, or they could be dragged out separately over years of piecemeal construction. This will be very profitable for the Applicant, but this would be terrible for the citizens of Redondo Beach. We will end up with acres of maximum-sized boxes and construction-in-progress dirt holes for more than a decade. This is piecemeal overdevelopment, and the residents will end up with nothing good from this.
With regards to the tract map subdivisions, the Applicant may argue that this should be broken up into pieces for financing and insurance purposes.   Clearly such a parcel break-up is not necessary, as there are many mixed-use developments incorporating hotels and residences into even the same structures, not broken into smaller sections. Again, this dividing of the property is being promoted to financially benefit the Applicant at the expense of the citizens of Redondo Beach.
Like it did with Legado, the city should require the Galleria redevelopment to be done as one integrated project with a limited construction period. Occupancy should be withheld until the full project is completed.
The Applicant's plan has land-use conflicts in the way in which the project claims public open space. The Applicant's claimed "public open space" areas are primarily just mall-access and perimeter sidewalks and associated landscaping, and building setbacks. Any revitalization plan should include more open space, and many of these areas, like sidewalks by parking lots with a strip of grass or AstroTurf should not count as "public open space".
Also their added 300 apartments causes the city a RHNA conflict, since their plan has such a minuscule percentage of so called "affordable housing". The only way to fix that conflict is for a high percent of low-income housing to be mandated to help meet RHNA low-income requirements. Redondo Beach citizens don't want high-density residential development anyway.
And of course there is no commitment in the deal for the Applicant to build any office space.
Redondo Beach residents all want the Galleria revitalized, but we don't have to accept the first plan that has been submitted.
In the limited time I have to discuss my appeal – the appellants were told we have a half hour – let's first have a look at a very impactful aspect of the currently submitted Galleria revitalization plan:
Luckily California citizens have the California Environmental Quality Act (or "CEQA") as the law to guide developers and municipal governments in informing residents regarding the impact that a proposed development will have on their lives and their city.
One requirement is a traffic impact analysis; that is, how will building this project affect driving conditions in the city? The purpose of the traffic impact analysis is to inform the community of how their driving conditions will change if the project is built to the proposed specifications (the size, the mix of uses, etc.) So, the information for the citizens of the Redondo Beach from the traffic analysis should be: when this project is built, here are the changes in traffic conditions you will experience as a result.
Since the Environmental Impact Report traffic study is supposed to be a comparison of current traffic to future traffic if the project is built, the traffic study should measure traffic conditions everyone is currently experiencing in the area, and compare it to traffic conditions that they will experience after the project is built. Showing this to the citizens who drive our streets every day, as we do, will give us information everyone will need to decide if we want the project to be allowed or not, because traffic is important – most of us spend hours of our lives every day in traffic. Many of us make decisions all day every day based on traffic conditions; whether to participate in activities, to make a trip to pick up something we need, leave an important meeting early to pick up the kids, leave earlier in the morning than we ever have had to just to get to work on time, risk being late for an important engagement etc. We need to know: how will traffic be different in the future from what we are dealing with right now every day, as a result of this project?
The Applicant didn't give us that comparison – they didn't compare traffic conditions that will result from their project to traffic conditions we are experiencing now. They cherry-picked their data to show a lower impact from their project than we will actually experience. They used traffic data from four years ago instead of current traffic as their baseline. Why is that important, and how did they do that?
They used a November 2014 traffic study, the pertinent data gathered being car trips generated by the Galleria. The November 2014 traffic study was done when Nordstrom, The GAP, Banana Republic and many other high-draw stores were open at the Galleria. These stores are not open now. So, this baseline of traffic generated by the Galleria in 2014 is higher than the number being generated today.
So, in comparing the car trips generated by the Galleria in 2014 to the number that will be generated by the proposed redevelopment, the Applicant shows a difference as a 23.75% increase in traffic generated. Remember, they also state that this causes "Unmitigatable impacts" to traffic congestion; this means there are no road changes or signals or anything that will eliminate the negative effects of this project on the traffic you will be experiencing every day. This makes sense, because if there are viable changes to signals and lanes etc. that would reduce our time spent in traffic jams, then the city should have done them already, or else all the city staff and local district Councilpeople should be fired for not doing it already.
A 23.75% increase in traffic is a lot, right? If the city suggested a street change that would add 24% more cars to your evening commute, would that concern you? The Galleria is your neighbor, and that is exactly what they are suggesting. But, they are wrong.
They have cherry-picked their baseline traffic data, using a 2014 traffic study, so they can use the higher baseline. Nordstrom is gone, so is The GAP, Banana Republic, and many other stores. They haven't shared with us current traffic data, but if we just adjust their 4-year old baseline for just one closed store, Nordstrom, to better reflect the car trips the Galleria generates today, we get a 56% increase in traffic from the proposed development over today's traffic you face every day.
A 56% increase in traffic, and that still doesn't count GAP, Banana Republic and all the other high-draw stores that have closed since 2014, so a true comparison reflecting them would show an even higher increase over today's traffic. The data the Applicant used is not applicable to this purpose, by design to deceive the residents. We don't have the actual current data, because the Applicant has not provided it.
So, the Applicant is claiming their project will generate 24% more traffic than what we have today, when the true number is very likely higher than a 56% increase. We would know the real number if they had chosen to use current data. They chose not to. One can surmise why they didn't.
CEQA does not allow cherry-picking of data by the Applicant. This is a violation of CEQA on that basis, and it is an apparent effort to deceive the residents of Redondo Beach. Redondo residents will have to suffer through the increased traffic congestion generated by this bloated development that includes high-density residential – 300 apartments, that are not there today, and that Redondo residents don't want. This project, as proposed, will make Redondo Beach residents' lives worse by creating much more new traffic congestion than shown in the Applicant's report, and the residents need to be aware of this. Redondo citizens will suffer longer commute times, and more time sitting in traffic congestion all day because of this project. This project should be rejected on this basis and for the other reasons described in my written submitted appeal.
With regards to the conditional use permitting, this project at a minimum should perform all traffic mitigations before construction starts.
In summary:
This mall project is too big, and creates too many unmitigatable traffic impacts.
The EIR violates CEQA by cherry-picking data.
The residential component creates a conflict in our RHNA numbers.
The project has too little public open space, and counts sidewalk entryways, perimeter sidewalks, medians and setbacks as "public open space", when they are not.
Retail is diminishing as an industry, yet this project adds even more retail space.
There is no commitment in this deal to build any office space.
Due to dividing of the property, the project is vulnerable to being sold off to different developers, and developed piecemeal over many years.
This project should be rejected, and sent back to QIC to be reworked and brought into compliance with all these points so we can move forward with a properly-revitalized South Bay Galleria that is in harmony with the surrounding communities.