Redondo residents should be very concerned about the proposed Galleria redevelopment, and its impact on local traffic. Below is an important page from the Galleria owner's (QIC) own Environmental Impact Report (EIR). I have highlighted the numbers that give you an idea of the traffic growth this will cause – the number of daily car trips on surrounding roads. This table indicates that the increase in the number of car trips per day will increase from 24,595 to 32,615, a 32.6% increase in traffic.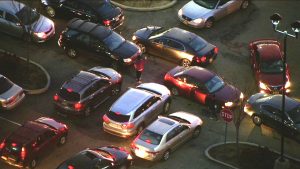 But this doesn't tell the whole story. The "Existing Use Credit" or baseline measurement (the 24,595 car trips per day) was measured in November 2014, before Nordstrom and other stores closed in the Galleria. So, the actual increase above current traffic conditions is more than 32.6%, maybe much more.
The difference between the 32.6% increase in traffic impact estimated in this analysis and the actual impact compared to current traffic conditions equals the difference in traffic that Nordstrom and the other stores open in November 2014 brought in. So, if the stores open in November 2014, including Nordstrom, brought in 500 cars per day (2 car trips per car – 1 arriving and 1 leaving) the increase in traffic is 38%, if 1000 cars/day it's a 51% traffic increase.
The EIR discusses traffic mitigation measures that can be taken, but it also admits that some significant impacts are unavoidable. One should be skeptical about the mitigation measures described – if there are ready ways to decrease traffic wait times in this area during peak times, why haven't these been implemented before now?
More than half of this traffic increase is due to the residential development QIC includes in the project. Keep in mind that in addition to traffic, such high-density residential development puts additional strain on public services, including Police, Fire, overcrowded schools, sewer and water.
If instead of high-density residential, QIC would commit to adding class-A office space to this project, it would create high-paying professional Silicon Beach jobs, right here in Redondo Beach. Silicon Beach is moving into Redondo, having filled every square foot available in Santa Monica, Venice, Playa Vista, Westchester, El Segundo and Manhattan Beach with great jobs. Currently 93% of employed Redondo Beach residents commute out of the city to work, creating a twice-per-day traffic crush you are probably familiar with. Creating good local jobs in Redondo Beach will reduce the number of people leaving town everyday to go to work, and will benefit everyone by reducing rush-hour traffic patterns. Good jobs so close by that you can even bike, walk or Uber to them.
Welcoming Silicon Beach to the Galleria site and the due-for-revitalization Verizon site next to it on 182nd can serve as the anchor to revitalizing Artesia Boulevard as a Silicon Corridor of good jobs and the businesses catering to them, like great restaurants.
The choice you should consider is between a more than one-third increase in traffic plus apartment towers, or good local jobs with a revitalization of Artesia, the Galleria, and the Verizon property.
To take action on this, a good place to start is by contacting your City Council member – each of the North Redondo City  Council Members is currently supporting the increased traffic option. If they deny this to you, ask them what they have done to stop this from happening. Appeals to the Planning Commission's approval of the current Galleria project plan will be heard and voted on by the City Council very soon. Tell them what you think.