Residents Seek to Limit Overdevelopment of Redondo Beach Waterfront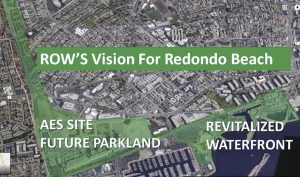 Rescue Our Waterfront (ROW), a Redondo Beach grassroots organization, today announced its intent to submit a citywide ballot initiative which would ensure proper-sized development of the City's harbor and pier areas, with a goal to protect coastal dependent recreational and commercial uses.
"We are fortunate to have the only harbor between Marina del Rey and the Port of Los Angeles. We should not allow a developer, who has never worked on developing properties in a harbor, to build a risky mall that could be built anywhere" said Candace Nafissi, Co-Founder of ROW.
The proposed CenterCal project more than doubles development while adding only 8% more parking. Current public recreational and commercial uses of the waterfront will be reduced or eliminated entirely. Traffic will double by adding over 12,550 additional car trips each weekday to our existing congested roads. The project would also block over 80% of the harbor views from Harbor Drive. ROW, the Sierra Club South Bay Chapter, the City of Hermosa Beach, and others have submitted evidence demonstrating that the Draft Environmental Impact Report ignored substantial impacts that violate the California Coastal Act and the Redondo Beach Local Coastal Plan.
"CenterCal's Waterfront is a lose-lose for the city, existing businesses, and taxpayers. We take all the risk while a private developer reaps all the financial rewards. This is our first opportunity in 100 years to shape our waterfront for generations to come," said Martin Holmes, Co-Founder of ROW.
ROW has initiated a fundraising campaign with a goal of $30,000 to cover initiative costs. ROW has already raised $8,000 and has a fundraiser scheduled on February 28 at R-10 restaurant at 4pm. The public can also donate via the ROW website at www.rescueourwaterfront.org.
Following on the heels of the million dollar Measure B campaign, this will be another citizen-led battle against a multi-billion dollar corporation and a city intent on bulldozing recreational waterfront activities in the name of potential "tax revenues."
"A growing number of residents have been pressing for a positive plan and we believe this initiative would balance development with recreational enjoyment of our beloved harbor," said Nils Nehrenheim, Co-Founder of ROW.
Rescue Our Waterfront is a grassroots group formed to advocate for the responsible redevelopment of the Redondo Beach waterfront. ROW supports revitalization that is balanced, properly integrated, and preserves and enhances coastal dependent recreational and commercial uses of the harbor. "Revitalize Don't Supersize."