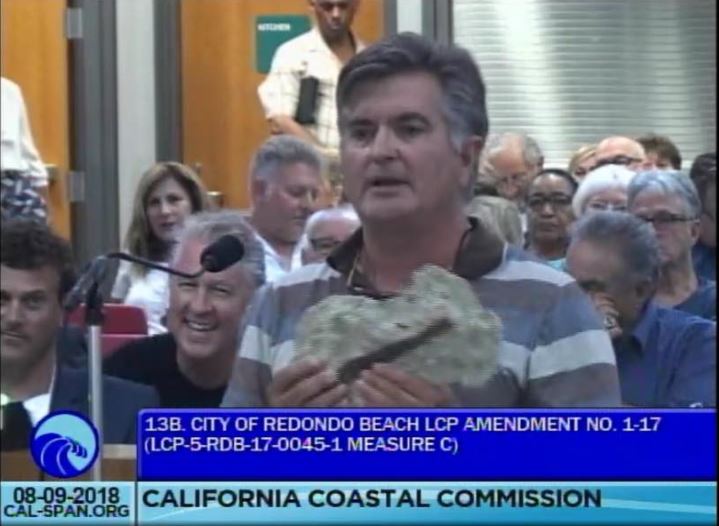 Treasurer Steve Diels Waves Concrete Chunk at Coastal Commission Meeting, From a Parking Structure He Neglected as a City Council Member, Subsequently Repaired Months Before this Rant.

Before you read this letter it's important to note Steve Diels' ridiculous frivolous lawsuit (which was against Redondo Beach City Clerk Eleanor Manzano) has already cost the residents of Redondo Beach way over $16,562 in taxpayer dollars (See invoice below for legal services).  The lawsuit was brought by CenterCal's attorney Bradley Hertz, with Steve Diels as the plaintiff – and Diels hasn't disclosed who paid the attorney (illegal), but you can guess!  That amount also doesn't include the many hours of time wasted by expensive city staff attorneys responding to the lawsuit and producing hundreds of pages of correspondence.
From Dawn Esser – Budget and Finance Commissioner
Redondo Beach voters, do not be fooled by Steve Diels' lawsuit antics attempting to discredit Eugene Solomon. Nothing Eugene stated in his ballot statement was false or deceptive. Eugene is a Budget and Finance Commissioner, prevented from disclosing that on the ballot because it is a non-paid volunteer appointed position. Many of our elected officials stated their commission roles on ballot statements in the past, and even the City Clerk thought this disclosure was allowed.
Any resident working to help the City by volunteering and running for office relies on the City to guide language allowed in a ballot statement. Diels, with CenterCal's lawyer, pounced on this innocent issue to portray Eugene as a liar. Don't be deceived by this. Eugene had to pay a lawyer $15,000 to defend against this ridiculous lawsuit, while Diels used CenterCal's lawyer and hasn't claimed a dime toward legal fees on his campaign disclosure. This happens to be the same lawyer that brought the shrill lawsuit against Mayor Bill Brand, Councilman Nils Nehrenheim, Wayne Craig of Row, and Bill's volunteer Treasurer. When will this bullying end?
Also know that Diels collected the entire $112K salary his first year as Treasurer, even though management of the investment portfolio was contracted out to a professional manager. He also hired a six-figure salaried person as Deputy Treasurer to update quarterly charts for the Budget and Finance Commission and Council, and other duties an accounting clerk can do! Because Diels was on the City Council for 8 years and received that large undeserved salary for one year, he bumped up his pension from the City from about $6,000 to $36,000 per year – hmmm, I wonder why he ran for Treasurer 6 years ago?
Alternatively, Eugene, as volunteer Commissioner, has significantly reduced expenses, increased fiscal transparency, and pushes to ensure single-source contracting is not standard practice in the City's procurement. As Treasurer, he will be your representative in the City to bring fiscal issues to the Budget and Finance Commission and the Council's attention, as well as fulfill the Treasurer's responsibilities specified in the City Charter. We will get way more value with Eugene as City Treasurer.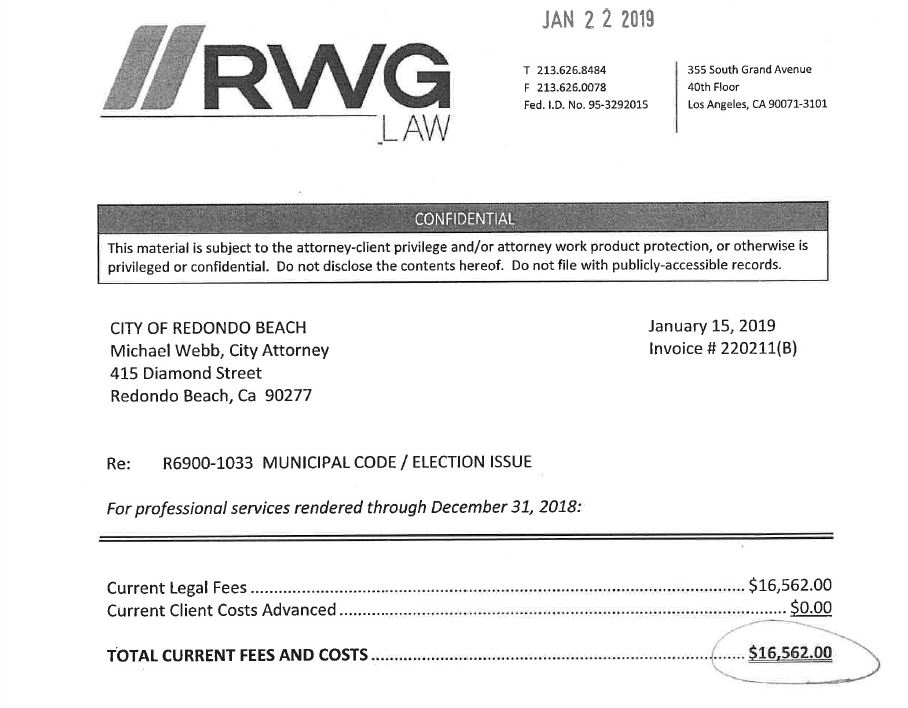 Here is just the bill from the attorney hired to defend the City Clerk. 
Watch City Treasurer Diels give an incoherent speech at the California Coastal Commission hearing.

"What does this do with the responsibilities of our City Treasurer?" you ask.  Nothing.